Maintenance of playground equipment and trampoline parks down to the smallest details
Operate & Optimise
"Playing tag with Picoo is so much more fun!"
The Netherlands, leisure country
Interactive invention gives 'boost' to indoor playground equipment
It seems simple. We see children playing enthusiastically with something that looks like a 'torchlight' resembling a console of a game console. This device turns out to be a revolution, giving an enormous boost to indoor playground equipment. "If you only play on the bouncy cushions", says Iris, "you get bored after a while. You have a lot more fun with Picoo!"
Marthe, Iris, Lara, Arvo, Lumen and Matthijs, all 9 or 10 years old, from Aalst in Brabant, run enthusiastically inside the indoor playground Ballorig in Veldhoven and go to the table where 'the great treasure' is located. "Can we play with the real one?" Matthijs screams. For the first time, the children get the opportunity to play in the ball pool with the new Picoos.
A whole day of fun
Now it becomes serious business. Lara knows the Picoo, she has already played with it in her garden. The mother of her friend, Iris Soute, is the inventor of Picoo. "It's so cool", the girl says. "You can play lots of games with it. Like tag and MolenMania. This so much more fun with a device that vibrates, makes sound and emits light!"
Marthe agrees entirely with her friend. It's fun to jump and go off the slide, but you're done with that after a few times. With Picoo it is fun to do races, such as MollenMania, which is really cool. I would like to stay here all day long."
Playing with Picoo in the ballpool
Winner Sport Innovator XL Award
Picoo, winner of the prestigious Sport Innovator XL Award 2016, looks simple, but is in fact a very advanced computer. It can put together teams on its own (Matthijs:"It does it all by itself!"), so that no one is chosen last. Vibration Tag, is about finding a team to find out who is it. The one who is it feels his Picoo vibrate, but of course doesn't reveal this. If you are close to another child, your Picoo starts to vibrate and then you are it. With this game, the nearest device takes over the vibration, be it someone of the opposing team or a teammate. That, of course, makes it even more difficult to win.
Innovation in playing together
The MollenMania game challenges you have to find the mole. "You'll find rounds (tags) hanging in the playground equipment. You have to find those because there may be a mole there, " says Marthe enthusiastically. "If there is a mole your Picoo will vibrate." Anyone who has no mole at the end of the game has lost the game.
I really like the ball pool a lot more now
Matthijs (10 years)
Picoo is interactive, but without a screen. That is exactly what it's all about for Iris Soute: developing toys that are interactive, with which children can play actively as a team and don't stare at a screen the whole time. The focus is not on the device, such as mobile phones or Wii. The device supports an innovative, active way of playing together, in an indoor playground, so not at home, behind the computer.
Playing together, interactive. It's really ideal for birthdays
Iris Soute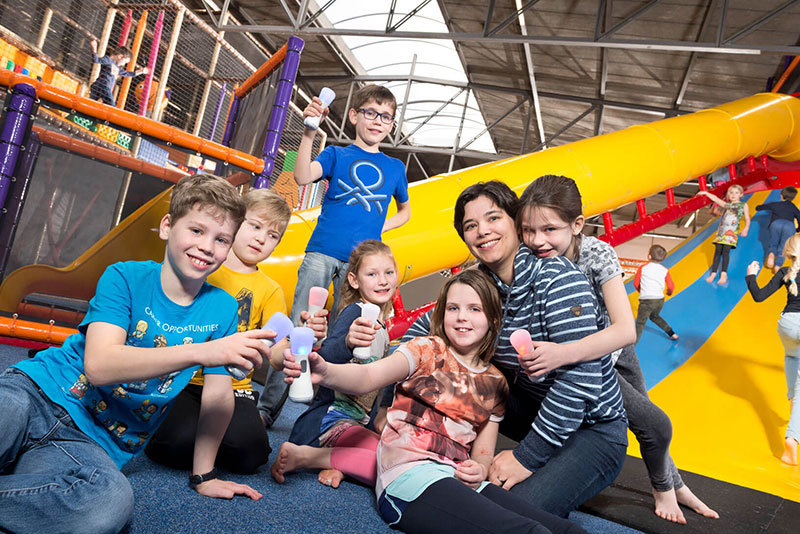 Picoo interactive playing in indoor playgrounds

Only at ELI Play
ELI Play, which has exclusive rights to the pro-games for indoor playgrounds, is very happy with this new addition. The market leader in indoor playgrounds wanted to add interactivity to its popular attractions. Picoo is so good for the company because it is a very clean game. No hassle with WIFI or GPS, no cables, no big computers and other things you have to maintain, or that make integration into an indoor playground complicated. As is demonstrated by the reaction of the children, Picoo is a fantastic addition. Children don't get frustrated with complicated instructions for use, which fits perfectly with ELI Play's motto: a child should be able to play. "But it really is more fun than playing, because there's technology in it," says Marthe "You've got that too with Wii, but then you're at home"

Available in May
Meanwhile, the children in Veldhoven run around with red cheeks through the playground equipment in Ballorig. The games Vibration Tag and MollenMania alone motivate them to move, and this is just the beginning. There are currently six games active in the pilot phase, and soon there will be an app with dozens of variants. Owners of indoor playgrounds will then be able to activate a game themselves, such as Living Stratego, a 'warm-cold search game' or 'Hot Potato', after which the children can completely run wild. "Ideal for birthdays", says Iris Soute of Picoo. The children have to a little patient though; ELI Play brings Picoo's pro games to the market in May. And then it becomes even more fun on the trampoline, in the ballpool and on the slide…
---