Corporate Social Responsibility (sustainability)
As a supplier of playground equipment, we are aware of the role and responsibility we have with regard to society. We create playgrounds and trampoline parks that will challenge and delight both children and adults, time after time. Sports, play and entertainment connects people!
Connection is an important factor for our organisation. We have strong and long-term relationships with our suppliers, customers and partners. In addition, our products connect people and provide fun.
We provide high quality products and services to our customers. With our effective and efficient way of working, we try to limit residual materials. Making our processes and activities more sustainable is a continuous process.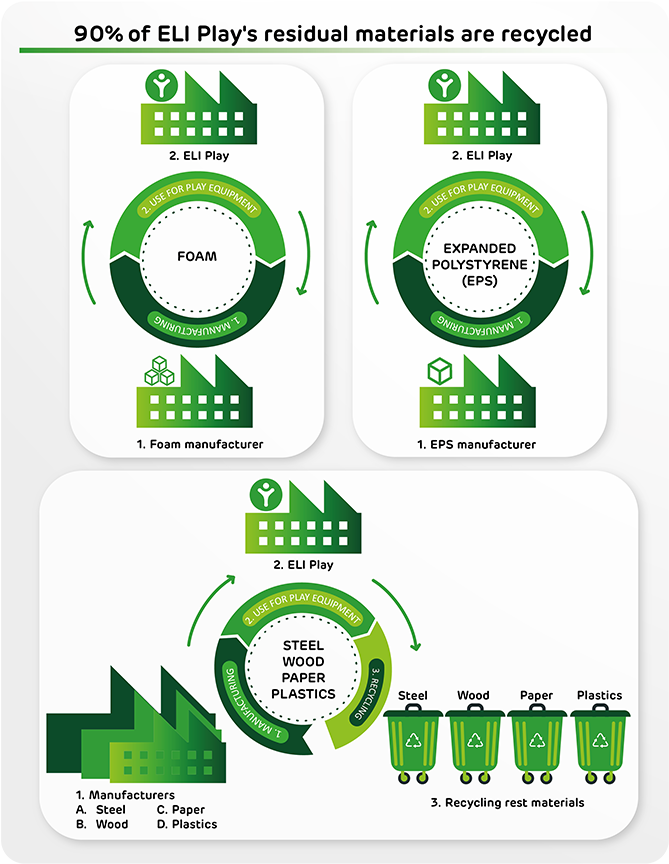 People

Corporate social responsibility is when a company operates in an ethical and sustainable way and deals with its environmental and social impacts. ELI Play focuses on creating fun and happiness both for our customers and end users, but also for our employees. We think it is important that people enjoy their work and create happiness for others.
We work with a team of approximately 65 employees: sales, creative and technical designers, product development, production, work preparation, transport and installation.
Our head office and production facility are located in Boxtel, The Netherlands. In a growing market for the manufacturing industry we try to contribute to the creation of employment in the Netherlands.
We offer employees a safe and familiar environment. Employees are challenged and given the opportunity to develop themselves by learning new skills and to grow within the organization.
We are a member of the standards committees for playground equipment and trampoline parks. we are committed to the development of safe playground equipment.
We are a recognised training company and supervise trainees in various departments.
World
We focus on quality, reliability and longevity in the design and production of our playground equipment. Our equipment is made of high quality materials from local or European suppliers.
In our own production facility the playground equipment is produced in an efficient and effective way. We have full control over the production flow. Therefore, we are able to guarantee the high quality and reliability. This ensures a long lifespan of our playground equipment and low maintenance costs.
To guarantee our playground equipment adheres to the best quality and safety, it is certified by recognized testing laboratories.
We have developed a modular system for our playground equipment and trampoline parks. Due to this modular system, we can easily adapt, repair or reposition the equipment when needed. In this way we ensure the maximum lifespan of our equipment.