The Netherlands, leisure country
Dream & Consider
Al-Ayn Foundation helps orphans in Iraq
Crazy Jump conquers market with sportsmanship and fun
Indoor playground provides heavenly fun
Is it possible to set up an indoor playground in Iraq? It seems like a utopia, in a country torn apart by war and terror. Yet for many orphans in Baghdad, a beautiful dream will come true. ELI Play has provided the playground and the equipment. The Al-Ayn foundation, which works for orphans, cannot wait until the first summersault is made.
Al-Ayn is an organisation with subsidiaries worldwide. The head office is located in Baghdad, but the foundation is also looking for donations for affected families from many other countries, including the Netherlands. The building in Baghdad has no less than five floors for the employees and storage of clothes and food parcels. One floor is dedicated as a playground.

Al-Ayn in the Netherlands
It almost seems like a superfluous luxury, because isn't there a particular need for basic necessities? "This also has the highest priority for the foundation", says Hassan Jaafar, an Iraqi resident in the Netherlands, who is responsible for running the foundation in the Netherlands and Belgium. He came to the Netherlands in 1988 as a refugee, returned to Iraq to start an internet business, but when he married an Iraqi doctor who lived and studied in the Netherlands, he returned. He wanted to do something 'different' next to his business and came into contact with Al-Ayn. "They wanted to focus more on the Dutch in their search for donors; I took on that task".
Help for 60.000 orphans
Donations, that's what it's all about, to help the now 60,000 orphans registered by the foundation in Iraq. 49,000 of them are actually supported with food, clothing, education and medical care. Their carers receive a monthly financial contribution. Obviously, many of the orphans struggle with psychological problems. They lost one or both parents, often because of the war or terrorist attacks. In Iraq you are also officially an orphan if only the father is no longer alive.
Be a child again
Many children are traumatised. It is of the utmost importance that they can sometimes forget the misery and be a child again. This gave rise to the idea of setting up an indoor playground so that children from Baghdad always have the opportunity for some to have fun. We will first organise this in Baghdad and if it becomes a hit, we want to roll it out to our offices in other provinces," says Hassan.
Indoor play structure in Iraq
Enthusiasm at ELI Play
The foundation stumbled upon ELI Play and was immediately enthusiastic. "Of course we did ask if we could get a discount, as a donation", says Hassan and laughs. There was no need for me to worry about that. ELI Play took care of the design and implementation and at the end of last year the equipment was shipped to Iraq. Does the equipment end up at the place of destination, though? In a country full of chaos? "That won't be a problem," says Hassan. "People who know Iraq from a distance think that nothing is possible. The reality is different: it is relatively safe here in many places. There have been attacks, but unfortunately we are also experiencing them in Europe today."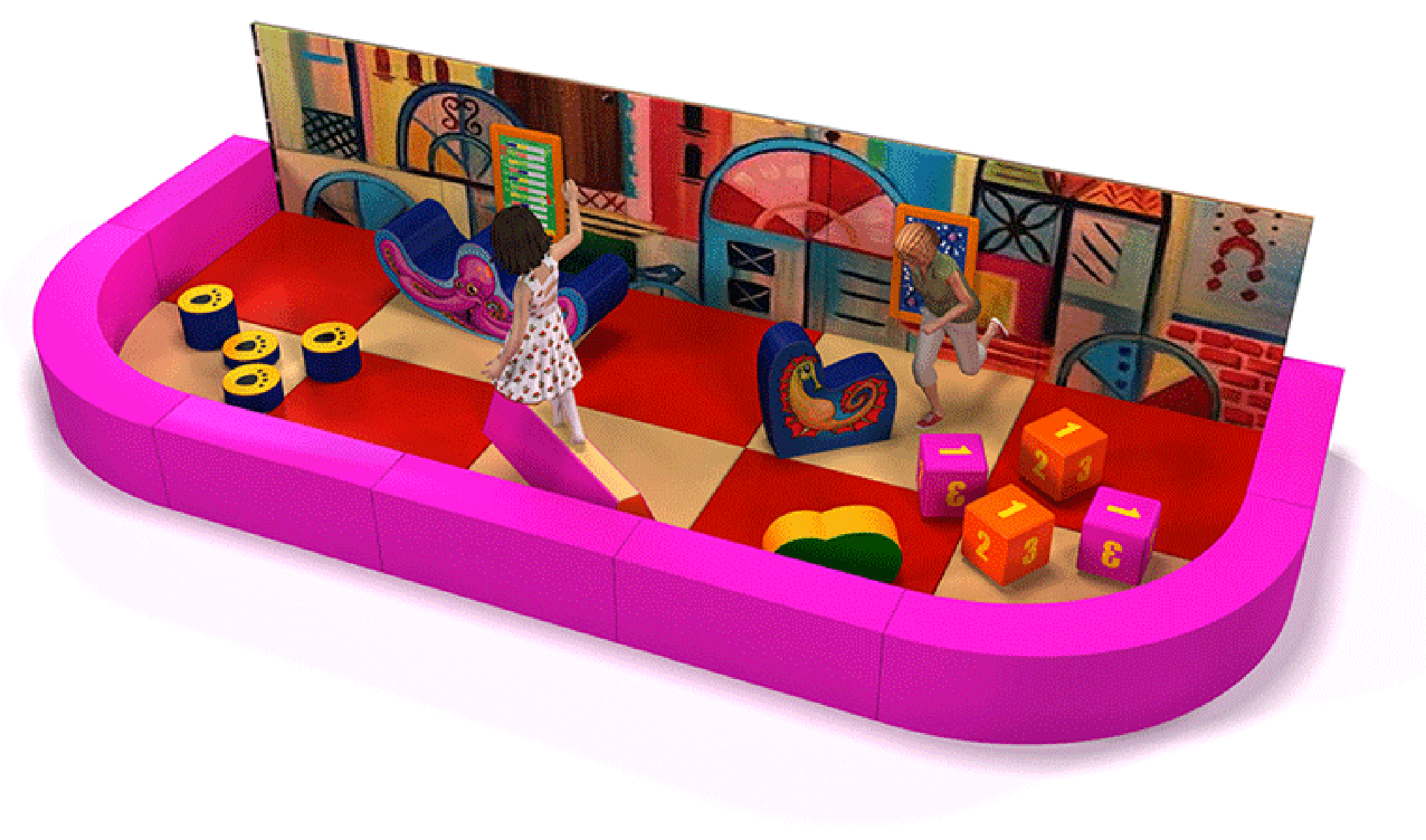 Generous donors
In the port, handling was rather slow, but the equipment has now arrived at the head office in Baghdad. The installation of the indoor playground equipment should start really soon. What does all this mean for the children and their carers? They are overjoyed. Finally they feel hope again, because the government does not care about orphans.

The orphans and caregivers finally have the feeling that someone is there for them and truly cares.
Hassan
Meanwhile, Al-Ayn continues in their search for donations. For 68 euros per month, a registered orphan can be provided with clothing and food. Seventy per cent of the donations come from Iraq, 30 per cent from the rest of the world. Hassan: "There is an anonymous donor, a woman from Iraq, who sponsors 1,000 children per month with a donation of 68,000 euros! We are very happy with this."
There is an anonymous donor who donates 68.000 euro every month.
Expansion to Syria and Afghanistan
The focus is on Iraq right now. In the future, Hassan and his charitable colleagues also want to help orphans in Syria and Afghanistan, although right now Al-Ayn still has their hands full with Iraq which, according to the latest estimate by the 'Ministry of Planning', has 600,000 orphans. Some of these children will soon be able to jump and play on the fifth floor of the office in Baghdad.
Hassan expects that the joy will be great the moment the first children are allowed to really have some fun. "We also get toys donated from Europe. These children are overjoyed with a two-euro doll, a doll that a child from the Netherlands doesn't even look at. Soon they will be in a real indoor playground, something they've never seen. I think it will bring them heavenly joy."