A combination of sports and entertainment
Interactive games are becoming increasingly popular. Children not only play digital games at home, but also in indoor playgrounds, trampoline parks and sport venues. Even smaller kids are familiar with different kind of games and they just love to play! At home, they play games by mobile phones or game consoles, but in the games of CSE the joystick is replaced by your own body. it's a totally different experience!
iWall
iWall is a fun and versatile exergaming product that lets the players become a part of the game. iWall can be used for efficient exercise, training, a simple workout or just for family fun!
The iWall consists of a wall with two screens and a play area for two players. The motion sensor in the wall records the movements of the players and shows them on the screens. The game can be played with one player versus the computer or with someone else in multiplayer mode.
There are various games available, such as Ski Jump, Shadow Master and Parkour. The players must move as quickly and accurately as possible. The games are easy to learn and offer fun for kids, teenagers and adults. In addition, there are games available to play in a wheel chair. The entrepreneur can choose which games are available during each time. So, visitors will discover new games every time they visit your park. Each unit is connected to a cloud service that allows easy maintenance and monitoring.
The iWall can be easily added in your indoor playground or trampoline park. In addition, it's possible to create a custom full-colour print on the wall and floor.
Size of the wall: 3000 x 290 x 2000 mm.
Space needed for playing area: 3000 x 3000 x 2500 mm.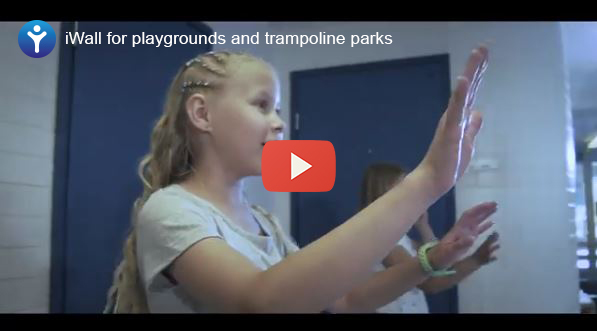 tapWall

The tapWall is an interactive touch screen. The games challenge players to use both their bodies and minds. The games are suitable for the whole family, kids, adults and seniors. It is designed for you to use skills like eye-hand coordination, memory, math, fast response capability and visual perception.
The number of games is regularly expanded and updated. Each unit is connected to a cloud service that allows easy maintenance and monitoring.
Size of the wall version: 1500 x 400 x 1500 mm.
Space needed for playing area: 1500 x 1500 mm.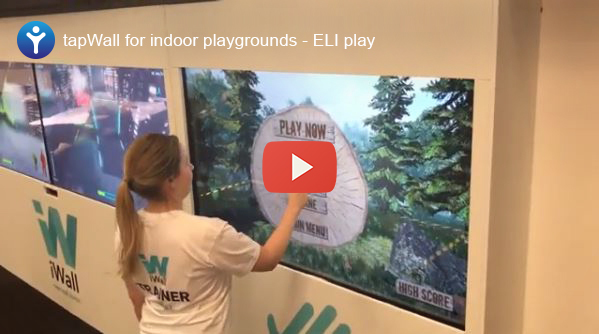 More information about the iWall and tapWall
Are you interested in the interactive games iWall or tapWall? Contact our sales department for more information via info@eliplay.com or +31(0)411 745 300.
More interactive games for indoor playgrounds or trampoline parks
If you are looking for more interactive games for your leisure park. Check out our range of interactive games for trampoline parks and playgrounds on our website or request a catalog.
---