Jump XL Waalwijk, The Netherlands
Waalwijk is JumpXL's seventeenth park. For a short time, back in 2016, it was even the biggest trampoline park in the Netherlands. The park's design meets the desires of local young people.
Read article Ins & Outs
The trend: replace your tennis hall with a trampoline park
Theheydeys of tennis halls are behind us.Racket Sport Waalwijk was losing money duringits last seven years. Owner Erwin Hermeswent looking for a new purpose andselected the Jump XL concept. The squash courts have made room for trampolines."Indoor trampoline parks are a growing market," says Erwin.

Jump XL Waalwijk covers an area of 2300 m2. The park is designed according to the tried-and-tested XL concept. However, the park in Waalwijk offers something special; its size offers so much room that the park is an example for others. All ELI Play innovations are on display in Waalwijk, with the concept aligned to the target group. For instance, the park has a fun 'Ninja Course' allowing visitors to test their strength and challenge themselves.

Waalwijk is a busy park, with an enormous number of monthly visitors. The park uses social media and focused marketing actions to reach and activate the local youngsters.
"Trampolining offers a lot of opportunities, both as a sport and as a hobby. There are many things you can do on a trampoline, from aerobics and balancing exercises to stunts. Sport clubs are also discovering the trampoline as an alternative for training exercises."
Gerard Beltz, Operations Manager Jump XL
Check out this video to see what Jump XL Waalwijk has to offer:
View all photos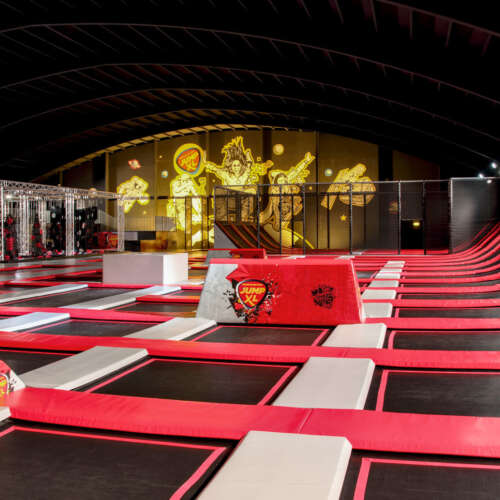 ---